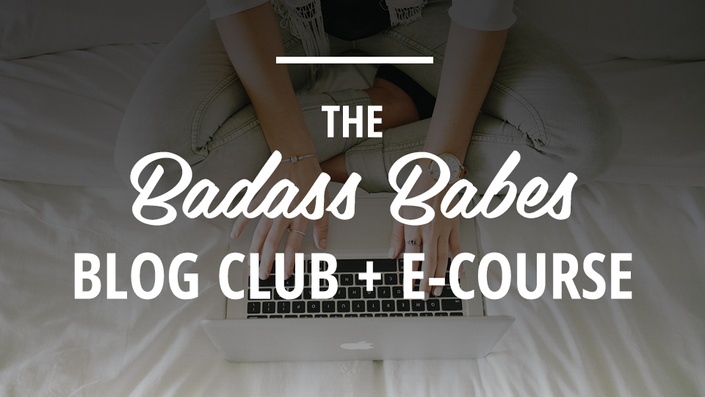 Badass Babes Blog Club + E-Course
Ready to take your blog from beginner to badass? Badass Babes will open for enrollment again in January 2017!

Do you struggle to find time in your schedule to post consistently?
Or have no idea what you should be writing about to attract the right readers + grow your audience?
Or maybe the blogging advice overload has left you more confused than ever.
Good news: You are not alone!

There's a lot that goes into building a blog, and the amount of information on how to do it isn't just overwhelming, it's downright paralyzing.
But it doesn't have to be that way.
The Badass Babes Blog Club + E-Course is your guide and support system for publishing content consistently and building a successful blog in a way that actually fits into your life.

Instead of watching other bloggers posting every week and gaining followers on social media, you're focused on your own kick-ass (and super effective) content plan.
Blogging is actually FUN because you know what types of blog posts to write to draw in your ideal readers and you're effortlessly converting them into email subscribers, customers, and clients.
Instead of feeling awkward and annoying, social media is exciting and your favorite spot to connect with your tribe.
You're motivated, you're inspired, and your little online home is finally GROWING!

"I am in Module 2 right now and am LOVING it. You've got a gift! I'm that far in and already I feel like I've gained a ton of clarity, thank you!"
- Britton | ArchaicHoney.com
"The personalized feedback on my blog design and blog chats was invaluable—it's like having my own personal blog mentor/cheerleader helping me out! Sarah's enthusiasm and love for what she does is very evident and I'm so happy I have gotten to know her throughout the process! All the advice was so practical and useful—I can tell how much thought was put into each lesson and I was able to apply the suggestions right away."
- Kerry Hishon | KerryHishon.com

An 8-week blogging intensive
that covers everything you need to double your blog traffic — content, design, social media, marketing, monetization, and MORE! Lessons (video + text) and homework will be available weekly.
LIFETIME access to the course content
so you'll be able to go back through the lessons any time you like and have access to any future updates to the course content.
LIFETIME access to the Badass Babes Blog Club
a private Slack community where you can share information, ask questions, and hang out with all the other blogging babes. I host office hours twice a month for the blog club too, so you'll have support long after the course has finished.

LIVE Hangouts each week with Sarah (the head Badass Babe)
and your fellow students in the Slack Community. We'll chat LIVE so I can check out your blog, answer questions, and help you fix your coding issues. Hangouts are the most valuable part of the course — they're not mandatory, but highly recommended!
PLUS Bonus tech tutorials for LeadPages, iMovie, and Pages for Mac
so you can skip the headache of learning new tools and jump straight into creating content upgrades, well-designed worksheets, and edit your videos like a pro!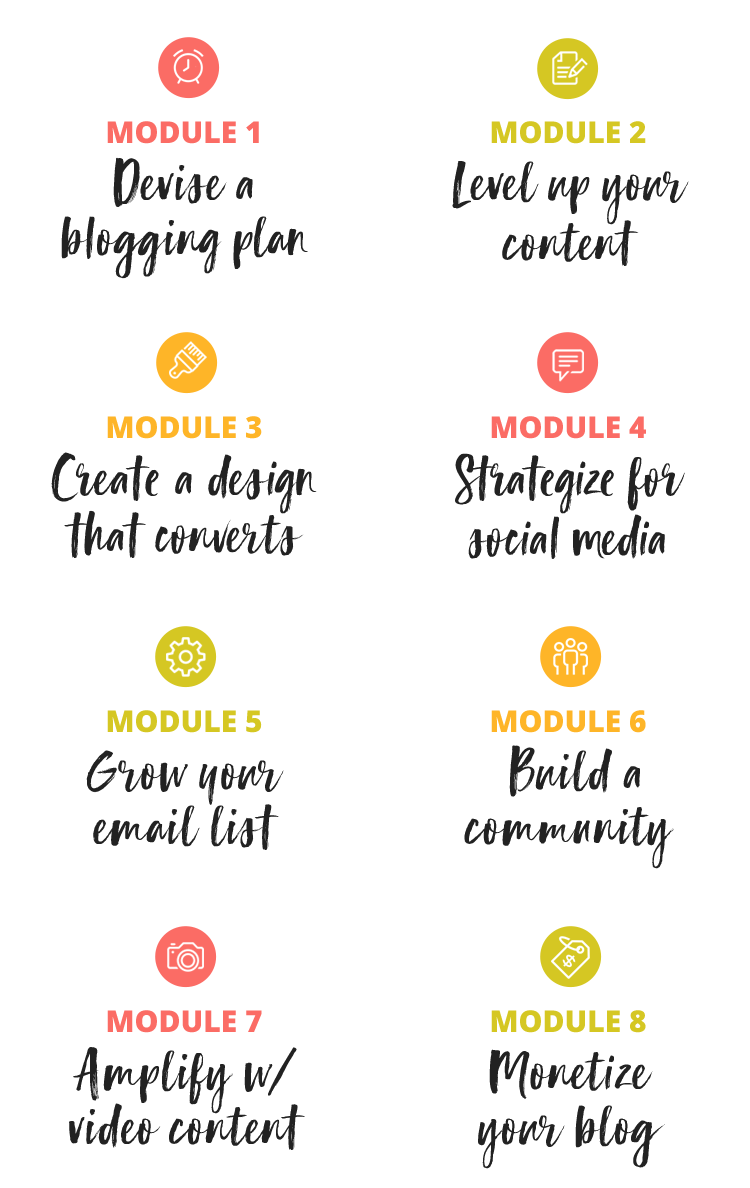 1 | Create a blogging plan that works with YOUR life so you can find time to blog on a regular basis
2 | Plan high-quality blog posts + create a strategy to publish content your audience will be excited to read
3 | Create a cohesive design that strengthens your message + keeps readers around longer
4 | Build a powerful social media strategy + have the confidence to promote your own content
5 | Start your email list from scratch or kickstart your existing list
6 | Build your online community + collaborate with other bloggers
7 | Shoot + edit video and broadcast live (sans anxiety!)
8 | And even make MONEY just from blogging
How do I know all of this stuff works?
Because I've done it myself. Figuring things out as I went, learning to grow my own online presence, testing all the options until I found what worked best.
When I launched this course two years ago, I had grown my own blog traffic from 25k pageviews/month to 50k.
Last year I doubled my traffic again - going from 50k pageviews/month to over 110k!
In 2015 I also grew my email list from 2k subscribers to over 10k in just ONE year!

But let me tell you - learning all that stuff...it took FOREVER.
I spent weeks and months and YEARS testing different options and strategies and software platforms. Learning what types of content got the most shares. Figuring out how to promote my own blog posts without feeling gross and sales-y. Finally creating a plan that kept me on track and blogging consistently.
THIS is why I created the Badass Babes - so I can share everything I learned to help you create serious growth in WEEKS instead of YEARS.
"Sarah is absolutely generous with her time and knowledge. She clearly wants you to succeed and is willing to look further into a topic if the answer to a question is not readily obvious to her. She is approachable yet professional. I loved that Sarah gave invaluable critiques of our blogs and concrete ways to better the look and feel. I am so glad that I took her course!"
- Aggie Armstrong | CableArms.com
Head Badass Babe
(aka your instructor)
Hi, I'm Sarah - I have been blogging, designing, and selling online since the internet was installed at my house at the age of 13 (aka a very long time ago). Years later, when I found myself at a job I didn't love—glued to my desk all day, sitting through endless meetings, working on projects I had no passion for—my blog was the way out. I learned how to create focused content, grow my social media presence and email list, and started my freelance business, which ultimately afforded me the opportunity to leave my job in 2012. Years later my blog is STILL the driving force behind my business.
Whether you're just looking to share your passion online, turn your blog into a money-making machine, or use your website to grow your business, I'd love to help you navigate all this confusing stuff and accomplish your goals!



• Are serious about improving your blog, but have hit a plateau
• Are overwhelmed by all the things you must and should and need to be doing
• Feel unfocused or struggle to come up with regular content that engages readers
• Aren't growing your subscribers, followers, or audience as fast as you'd like

• Want ideas for content, design, and growth designed specifically for your blog or business
• Are seeking a tribe of fun, supportive bloggers to share ideas, advice, and feedback along the way
• Want to make money from blogging, start a business, see email subscriptions soar, land your first client, sell that ebook…seriously, name your goal, any goal — let's make it happen!
"If you're ready to get serious about blogging, sign up now: this course is comprehensive, empowering, and fun! After implementing the DIY design, social media, and marketing techniques I learned in the Badass Babes E-course, my Twitter followers spiked and blog traffic DOUBLED. Also, Sarah is whip-smart and knows just the right questions to push you out of your comfort zone and up to the next level. The other bloggers you'll meet in the course are icing on the cake. Getting to grow my blog alongside these inspiring kindred spirits was an amazing experience."
- Amelia Quint | TheMidheaven.com
Frequently Asked Questions
When does the course begin?
The course starts as soon as you register. You'll be able to jump into Module 1 immediately and will receive access to one module/week over the course of 8 weeks. But since you have LIFETIME access to the content you're welcome to work at your own pace.
When are the live hangouts?
The hangouts are currently scheduled on Tuesdays, half at 11am PST and half at 5:30pm PST. If you want to join the course but those times don't work for you, just let me know and I'm happy to switch a few of them so you'll be able to attend. (As long as it's not in the middle of the night for me :) If you aren't able to join the hangouts live, you will be able go into the Slack channel after and see all of the messages. Blog Club hangouts are twice a month at similar times on Thursdays. And I'm in the Blog Club every single day answering questions, so there's a bunch of options for asking questions and receiving feedback.
What if I don't have a blog yet or just started blogging?
This course does not include basic blog set-up, so head over to my FREE beginner blogging course
Dare to Blog
and come hang out with us in Badass Babes after you've got your blog up and running!
Do I need to know HTML / CSS?
Nope! That's what we're here for! As long as you have a blog, we can help you figure out coding and design issues.
What if I am unhappy with the course?
If you decide the Badass Babes isn't right for you, you may request a refund within 14 days after purchase - no questions asked.
This course is closed for enrollment.
"After being super unsure about what I wanted to do with my blog, I decided to take Sarah's class. I was able to figure out exactly what I wanted to focus on and come up with tons of post ideas as well. If you get lost or confused at any point in the e-course, you get the help from Sarah and all the other amazing women in the Badass Babes club! Even after the class is over, you still get the help & support from everyone in the group through posting in the community and the hangouts every other week."
- Emily Finta, EmilyFinta.com
"Not only was I able to get great, practical advice from Sarah, but she went out of her way to give personalized advice for every blogger in the class. In addition, it was great to be able to chat with a group of highly-motivated bloggers. Everyone had great ideas to contribute and was incredibly supportive of trying new things!"
- Chrystina, ChrystinaNoel.com
"I've taken a few other blogging e-courses and this one was definitely a game changer. I came into class having a general idea of my target reader/audience and what I wanted to write about, but I didn't feel I was quite there yet. When I came up with my mission statement (with Sarah's help in the Google+ group!), my jaw literally dropped…it was SO right! Once I had that, it's like all of the pieces just fell into place and it still guides my every decision I make for my blog."
- Vicky, HeartAndMoxie.com
"The hangouts were my favorite part, and I was always pleasantly surprised at how involved and hands-on Sarah is. Her individual attention was worth 10x the cost of the course! It was like having a personal mentor for eight weeks. In our first group Hangout, I asked Sarah to check out my blog and give me suggestions for what I could do today to make it better. When I did what she recommended, my pageviews for the month TRIPLED and my sales conversions went way up. I have been blogging for more than 3 years and still learned more from this class than I had in all of my own experience."
- Mariah Coz, Femtrepreneur.co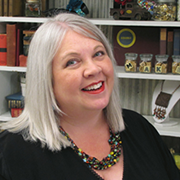 "I loved Sarah's open and friendly personality. I always felt like I could ask a question and it would be answered in a way that I would understand. Not only did I take the e-course but I employed Sarah to re-design my blog at the same time. She was great to work with! I feel like she heard everything I had to say and answered all of my questions."
- Vicki O'Dell, VickiOdell.com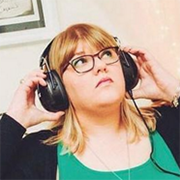 "I'd done blogging workshops before, and I read nearly every tip and trick article I come across on Pinterest, but nothing could beat the experience of Sarah's E-Course. Focusing on one topic every week, working through our ideas or problems, and then having the opportunity to get feedback from other bloggers like me was incredibly helpful and gratifying."
- Miranda, TheGoodGroupie.com
"I have learned so much about blogging from Sarah and the other badass babes. I've been educated in blog design, content creation, social media, and business. This isn't classroom learning—this is practical, applicable, useful knowledge that I use literally every day. I've seen tangible results—my blog traffic has QUADRUPLED since I started the blog club, my following on all social media platforms has grown, and did I mention all of the community, support, and knowledge I've been getting?"
- Allyson, Allyson Wonderland Photography