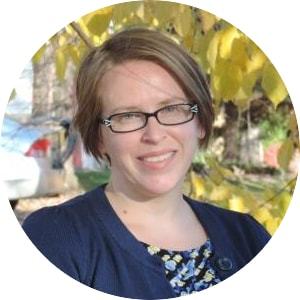 "This course gave me the skills, the courage, and the support to create my first video, write my first guest post, and start using Instagram for the first time. I also started a real email list which has been growing by leaps and bounds! I've even gotten emails back telling me how helpful my emails have been, so I feel like I'm making a difference and helping people."
- Natalie | StampWitch.blog
Pop Quiz: Does building your online presence feel AWESOME or OVERWHELMING?
Let me guess . . .
You know you need to be blogging + updating social media + sending weekly emails but can't always find the time to get it all done.
.
You have plenty of blog post ideas but haven't been hitting publish consistently, or you're having total writer's block over what to post.
.
You're updating social media...sometimes...but are worried people will unfollow if you post or promote too much.
.
Or maybe you've been posting and posting and posting and all you're hearing is the totally frustrating sound of crickets. #UGH
Here's the deal...if you have a grand plan to grow your blog or business, a mediocre online presence isn't going to cut it.
⇩
Your ideal readers, clients, and customers are already online, but if you're creating content without a plan and a strategy to connect, THEY'LL PASS YOU BY.
It's time to stop clicking publish + crossing your fingers, and start building an online presence that not only feels AWESOME to create but actually does its job.
Dare to Grow is your step-by-step roadmap to skip over the need-tos and the should-dos and learn the EXACT strategies that will connect more of the right people with you and what you do.
Enrollment is closed + will reopen again in 2018.

What if . . . New readers not only stuck around but shared your blog posts, showed up to your webinars, participated in your Facebook group, and were truly excited to see what products you're launching, or were scrambling to be first in line for your new service?
What if . . . Blogging was actually FUN because you knew what types of posts to write to draw in your ideal readers, customers + clients.
What if . . . Instead of feeling awkward and annoying promoting what you do, you felt confident sharing your stuff and connecting with your audience on social media.
What if . . . You were motivated and inspired - and your audience (plus your affiliate income, sales, or client list) was finally GROWING!

I've been blogging for over 20 (yes, TWENTY) years, which means I've spent a lot of time testing different blogging + social media strategies.
Over the past 6 years my blog has helped me ditch my corporate job, build a thriving freelance design business, and then transition into selling ebooks + teaching online courses!
But learning how to grow my blog traffic, create clickable social media content, and send emails my subscribers would actually open...it took FOREVER.
I spent weeks and months and YEARS figuring out what types of content got the most shares and how to promote my stuff without feeling gross and sales-y before finally creating a plan that kept me on track and growing consistently.
I created Dare to Grow so I can help you do the same and build an online presence that draws in more of your ideal readers, customers, or clients in WEEKS instead of YEARS.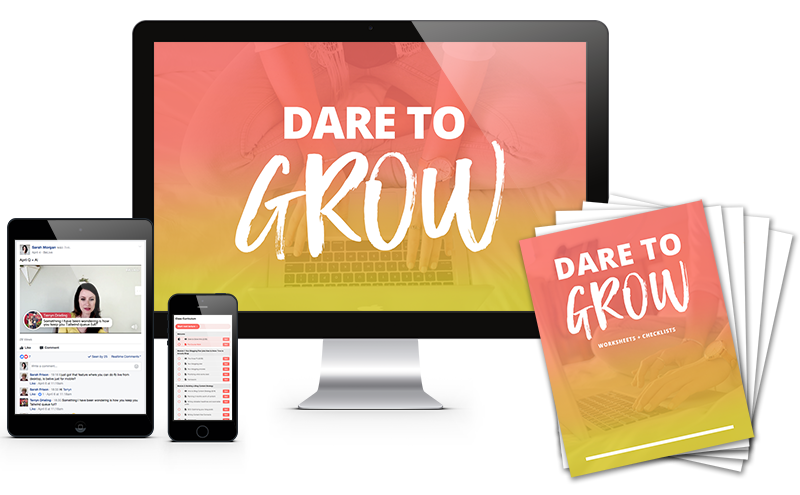 8 jam-packed modules delivered weekly
with 35 lessons that cover everything you need to grow your online presence—blog content, design, social media, marketing + promotion, video, community building, and MORE! Each module comes with a video, worksheets, and action-oriented homework to help you work through the lessons.
LIFETIME access to the course content
so you'll be able to go back through the lessons anytime you like and have access to any future updates to the course content.
LIFETIME access to the Dare to Grow Facebook community
a private (and VERY active) Facebook group where you can share information, ask questions, and hang out with all the other blogging babes. I'm in there every single day offering answers and advice, so you'll have support 24/7.

LIVE COACHING once a month with Sarah
and your fellow Dare to Grow students within the Facebook group. I'll jump on Facebook live for an hour once/month so I can check out your blog, answer questions, and help you conquer whatever blogging challenge you're working through. **You get LIFETIME access to the monthly coaching sessions—something I don't offer anywhere else!**
PLUS bonus tech tutorials for LeadPages, iMovie, and Pages for Mac
so you can skip the headache of learning new tools and jump straight into creating content upgrades and well-designed worksheets, and editing your videos like a pro!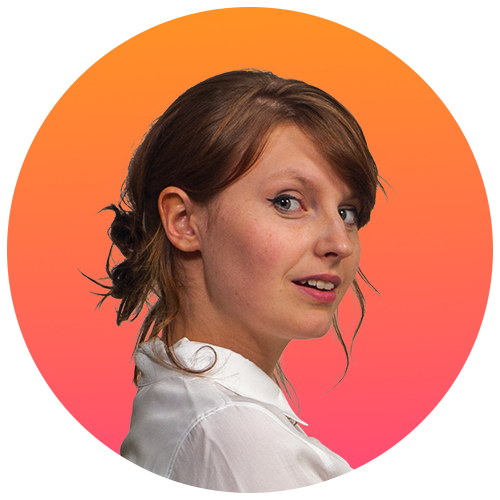 "I was always pleasantly surprised at how involved and hands-on Sarah is. Her individual attention was worth 10x the cost of the course! It was like having a personal mentor. In our first group hangout, I asked Sarah to check out my blog and give me suggestions for what I could do today to make it better. When I did what she recommended, my pageviews for the month TRIPLED and my sales conversions went way up. I have been blogging for more than 3 years and still learned more from this class than I had in all of my own experience."
- Mariah | Femtrepreneur.co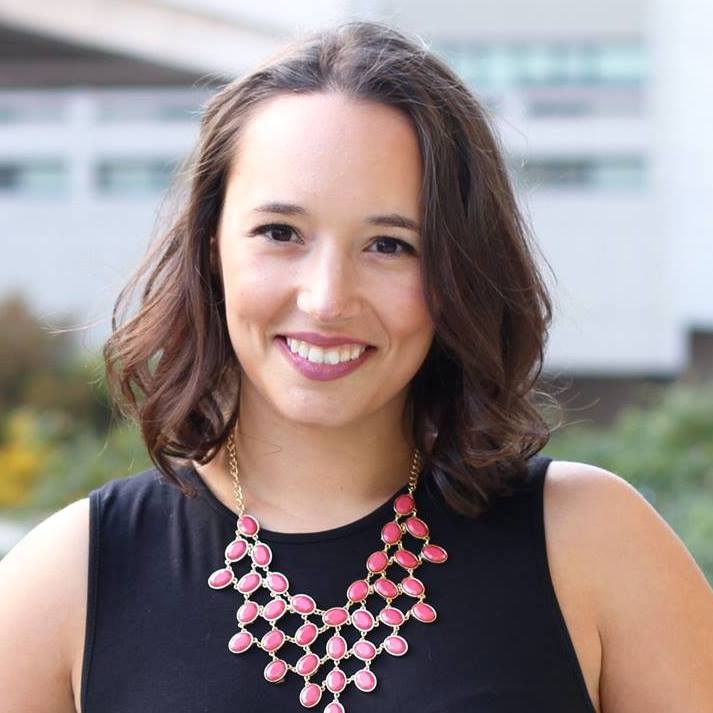 "This course was the first ever investment I made in my business and I can't imagine where I'd be if I hadn't stepped up and made the investment. Sarah knows her stuff - and it shows! It was more than being told what I should do, but how I could bring it to life. The community has been super helpful whenever I've been stuck in my business or just need to get feedback on ideas."

- Kayleigh | LetsTalkLadyBiz.com

You'll learn how to . . .

Module 1: Make Time to Blog
Create a blogging plan that works with YOUR life so you can find time to blog on a regular basis. Learn to plan and prioritize so you can skip feeling overwhelmed and head straight into a serious blogging strategy.
Module 2: Build a Content Strategy
Plan high-quality blog posts + create a strategy to publish content your audience will be excited to read and share. No more post planning the night before, you'll leave Module 2 with an entire year of super-shareable content ideas.

Module 3: Design Your Blog to Convert
Create a cohesive design that strengthens your message, keeps readers around longer, and converts them into email subscribers, social media followers, clients and/or customers.

Module 4: Grow via Social Media
Build a social media plan that looks polished and feels FUN instead of overwhelming. Learn to create engaging and clickable posts on Instagram, Pinterest, Twitter, and Facebook.
Module 5: Build Your Online Community
Build an online community that helps you connect with your audience by running online events (like challenges) and hosting communities on platforms like Facebook.

Module 6: Grow With Video
Shoot + edit video, host webinars, and broadcast live on social media (sans anxiety!) to help connect with your audience and show off who you are and what you do.

Module 7: Promote + Collaborate

Expand your reach and connect with new audiences through podcast interviews, online summits, hosting guest bloggers on your site, and guest posting on other blogs.

Module 8: Track Your Progress + Focus on What Works for YOU
Good news...you don't need to do all the things! Track your stats so you can spend time on the stuff that works best for you and your audience.

Dare to Grow isn't just a course
With LIFETIME access to 35 step-by-step lessons + videos, our private (and very active) Facebook group, and monthly LIVE group coaching sessions, it's designed to give you a plan, strategies, and support for growing your online presence.
This means you'll . . .
✓ Have a plan + processes in place so blogging fits into YOUR schedule.
✓ Finally feel CONFIDENT publishing and promoting your blog posts.
✓ Know what to share + when to share on social media so your likes, clicks, shares, and comments grow EVERY DAY.
✓ Figure out how to make those damn email opt-in boxes attract enough subscribers that you'll feel EXCITED to send emails.
✓ And (because you're about to know EXACTLY what you're doing online) attract more readers, customers, and clients who will be a perfect fit for what you create.
Enrollment is closed + will reopen again in 2018.

This course is not open for enrollment.
14-Day Money Back Guarantee
If for any reason you aren't satisfied or the program doesn't seem like a good fit, you may request a refund within 14 days of purchase. No questions asked.
⇩
Any questions?
Send us an email at hello@xosarah.com and we'll get back to you ASAP!
Frequently Asked Questions
When does the course begin?
The course starts as soon as you register. You'll be able to jump into Module 1 immediately and will receive access to one module/week over the course of 8 weeks. But since you have LIFETIME access to the content, you're welcome to work at your own pace.
When are the live coaching sessions?
Live group coaching sessions are generally held on the first Thursday of every month for all Dare to Grow students. Times will vary to try and include as many students as possible no matter where in the world you live. Students are welcome to post questions in advance and recordings will be available if you aren't able to join us live.
What if I don't have a blog or email list yet?
This course does not include basic blog or email list set-up so head over to my beginner blogging course,
Dare to Blog
, and my beginner email course,
Dare to Email
, and come hang out with us in Dare to Grow after you've got everything up and running! If you're super ambitious and you really want to join Dare to Grow, you can absolutely jump into all three courses at the same time.
What if I am unhappy with the course?
If you decide that Dare to Grow isn't right for you, you may request a refund within 14 days after purchase - no questions asked.
Ready to get past perfection and stop playing small? Join Dare to Grow and learn how to help more of YOUR people find you online.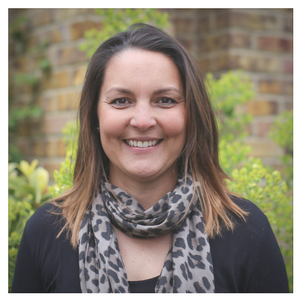 "The best thing I learned from Dare to Grow was how to create my own blogging plan and process that works! I'm now posting regularly every week and have streamlined both my post creation and promotion processes so I'm not a crazy overwhelmed blogger!"
- Emma-Louise Smith | Self-EmployedSingleMum.com
"I am in Module 2 right now and am LOVING it. You've got a gift! I'm that far in and already I feel like I've gained a ton of clarity, thank you!"
- Britton | ArchaicHoney.com
"The personalized feedback on my blog design and the blog chats were invaluable—it's like having my own personal blog mentor/cheerleader helping me out! Sarah's enthusiasm and love for what she does is very evident and I'm so happy I have gotten to know her throughout the process! All the advice was so practical and useful—I can tell how much thought was put into each lesson and I was able to apply the suggestions right away."
- Kerry | KerryHishon.com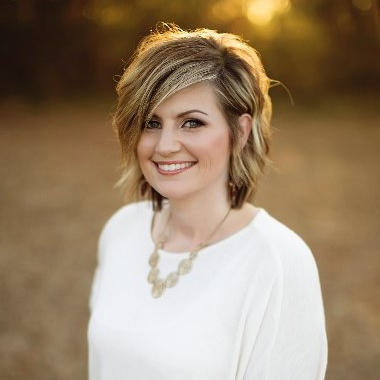 "The best thing I learned from Dare to Grow was how to manage my time with a blogging schedule! Content planning made executing my posts much easier!"
- Dana | PhotogenicsOnLocation.com
"Not only was I able to get great practical advice from Sarah, but she went out of her way to give personalized advice for every blogger in the class. In addition, it was great to be able to chat with a group of highly-motivated bloggers. Everyone had great ideas to contribute and was incredibly supportive of trying new things!"
- Chrystina | ChrystinaNoel.com
"If you're ready to get serious about blogging, sign up now: this course is comprehensive, empowering, and fun! After implementing the DIY design, social media, and marketing techniques I learned in the Badass Babes E-course, my Twitter followers spiked and blog traffic DOUBLED. Also, Sarah is whip-smart and knows just the right questions to push you out of your comfort zone and up to the next level. The other bloggers you'll meet in the course are icing on the cake. Getting to grow my blog alongside these inspiring kindred spirits was an amazing experience."
- Amelia | TheMidheaven.com
"I've taken a few other blogging e-courses and this one was definitely a game changer. I came into class having a general idea of my target reader/audience and what I wanted to write about, but I didn't feel I was quite there yet. When I came up with my mission statement (with Sarah's help in the Google+ group!), my jaw literally dropped…it was SO right! Once I had that, it's like all of the pieces just fell into place and it still guides my every decision I make for my blog."
- Vicky | HeartAndMoxie.com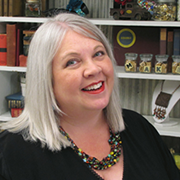 "I loved Sarah's open and friendly personality. I always felt like I could ask a question and it would be answered in a way that I would understand. Not only did I take the e-course but I employed Sarah to re-design my blog at the same time. She was great to work with! I feel like she heard everything I had to say and answered all of my questions."
- Vicki | VickiOdell.com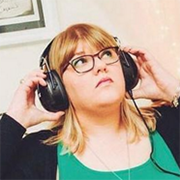 "I'd done blogging workshops before, and I read nearly every tip and trick article I come across on Pinterest, but nothing could beat the experience of Sarah's E-Course. Focusing on one topic every week, working through our ideas or problems, and then having the opportunity to get feedback from other bloggers like me was incredibly helpful and gratifying."
- Miranda | SpookyLittleHalloween.com
"I have learned so much about blogging from Sarah and the other students. I've been educated in blog design, content creation, social media, and business. This isn't classroom learning—this is practical, applicable, useful knowledge that I use literally every day. I've seen tangible results—my blog traffic has QUADRUPLED since I started the blog club, my following on all social media platforms has grown, and did I mention all of the community, support, and knowledge I've been getting?"
- Allyson | Allyson Wonderland Photography