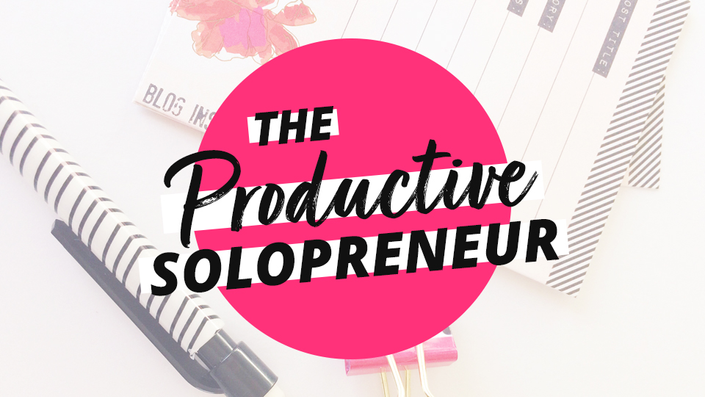 The Productive Solopreneur
Learn how to plan, organize, and automate your business tasks to get more done every day!
Question . . .
Are you working your tail off all day long, but when 5pm rolls around (or, let's be honest...8pm or midnight) you still feel like you haven't gotten enough done?
Are you spending nights and weekends glued to your computer, trying to finish everything, watching as everyone else takes time off?
Are you sick of ending the day with a to-do list that's longer than when you started??
↓
How can one person possibly be the CEO, CFO, creative director, accountant, copy editor, designer, tech support, customer service rep, marketing director, and the sales force without totally burning out??
Luckily it IS possible to prioritize the important stuff, automate repeated tasks, and clock out at a decent hour knowing you got everything checked off for the day.
No more Sunday Scaries, no more wondering how everyone else looks so chill about their business, no more endless to-do lists!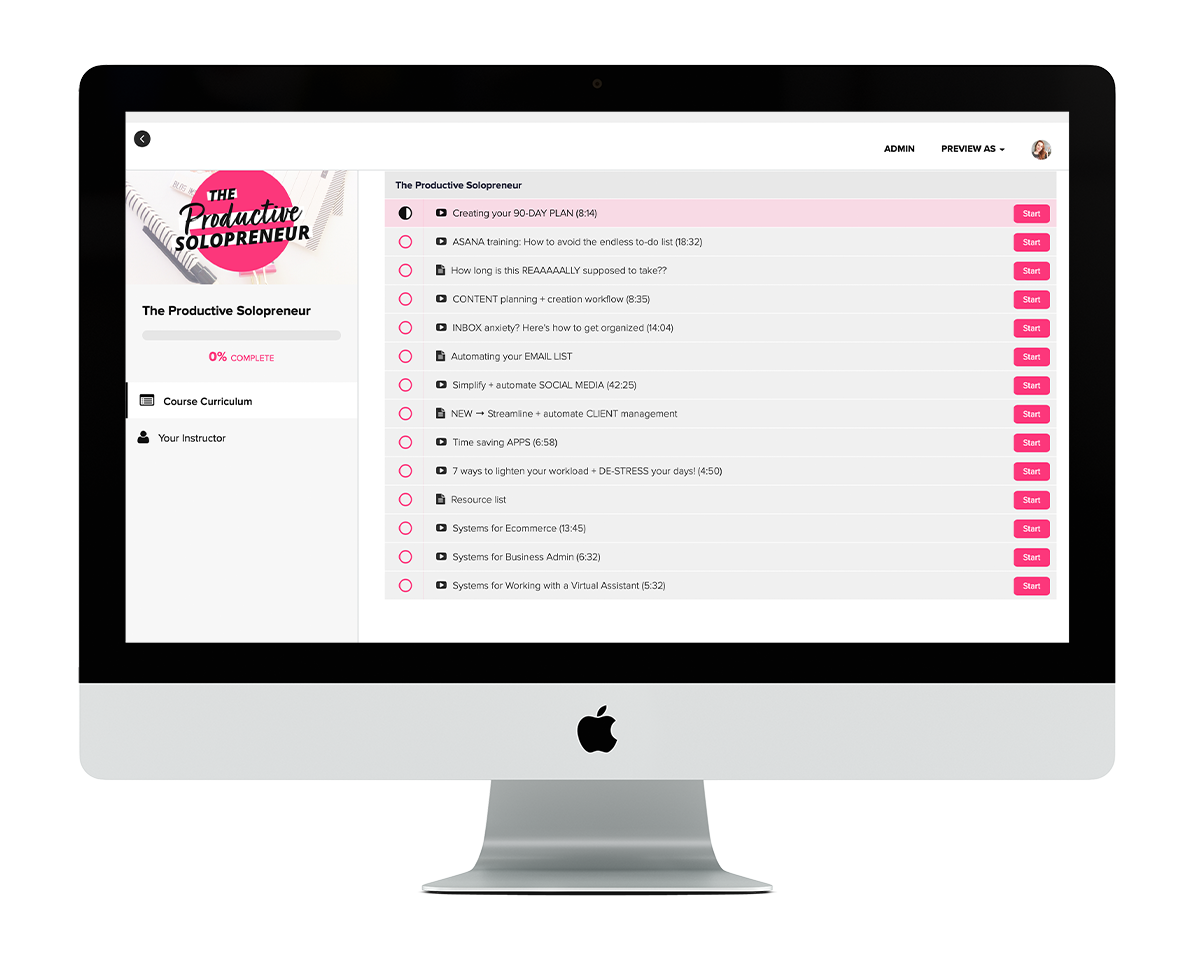 The Productive Solopreneur includes 12 video lessons to help you . . .
✓ Make a 90-day plan so you always know what tasks to prioritize
✓ Learn how to use a project management system so you can complete your ENTIRE to-do list every day
✓ Create and publish content (blog posts, emails, videos, podcasts) consistently
✓ Promote on social media without feeling like you're opening Instagram or Pinterest 12 times/day
✓ Avoid feeling overwhelmed by your inbox and yes, hit inbox ZERO every single day
✓ Segment and automate your email list so subscribers get the exact emails they need
✓ Automate + organize client projects and meetings to cut down on your daily admin tasks
✓ Create processes so a virtual assistant can take tasks off your plate
✓ Plus 7 things you can do TODAY to lighten your workload + my favorite time saving apps!
Two ways to get support
1 ➜ Post your questions at the bottom of ANY lesson
No need to go it alone! Post your question in the comments box on any lesson and I'll get back to you with the answer within 24 hours (except weekends)
2 ➜ Add on monthly coaching calls
Join me for monthly coaching calls on the first Wednesday of every month at 9am Pacific. Ask your questions live, get feedback on your business, or just hang out and learn from other students.
Coaching call add-on available for $19/month - sign up in the first course module.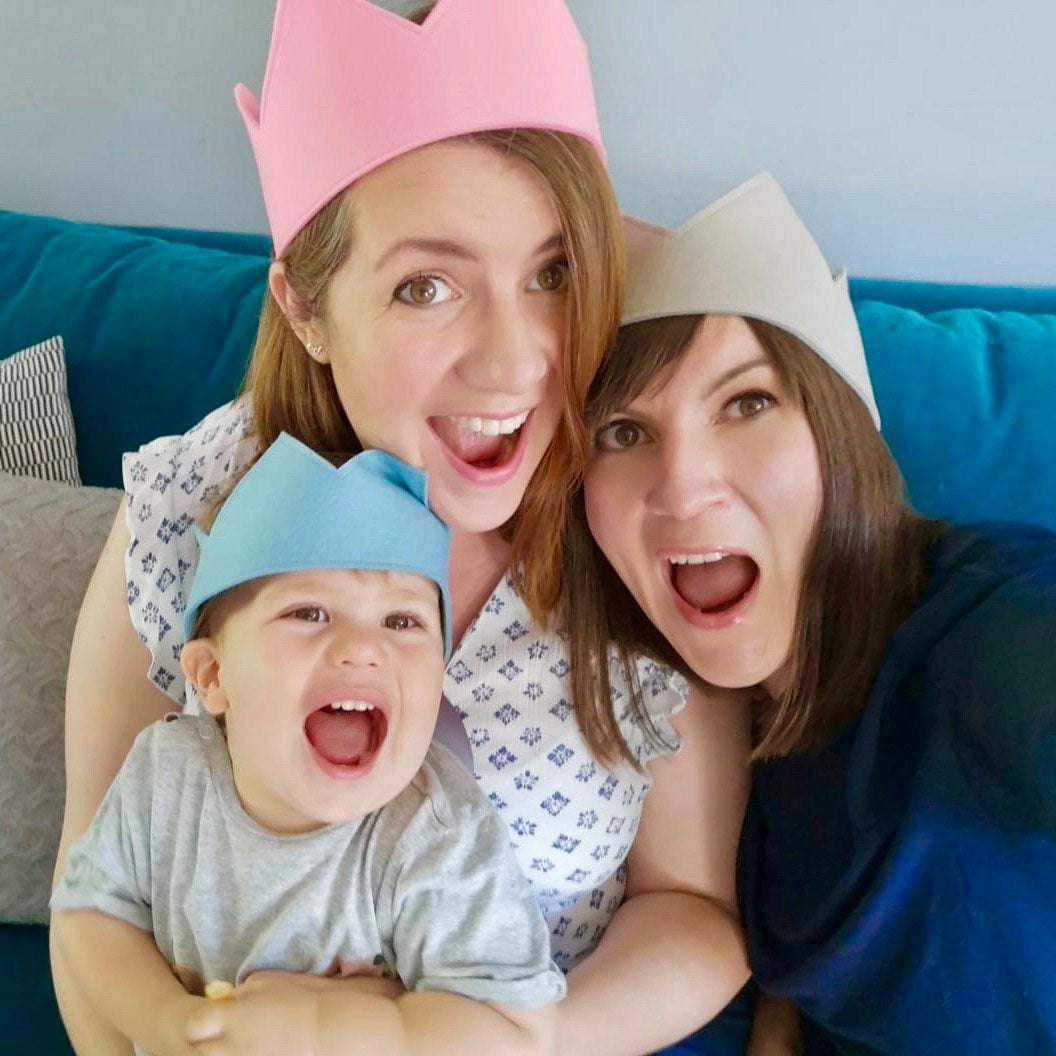 "Am loving The Productive Solopreneur! So straight forward and simple but makes so much sense! The two download worksheets themselves have proved invaluable. Learning so much and it's saving me so much time. And I already thought I was pretty good at planning!" - Jen and Jac | Festoonshop.etsy.com

"Wow, I thought I was going to get some boring tips on this one [automating your email list], but you just blew my mind in the second half. HA! Thanks, Sarah." - Ashley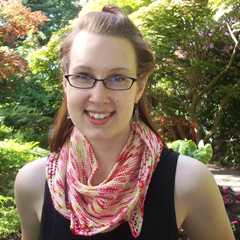 "I nearly cried from relief when I started putting the lessons from The Productive Solopreneur into effect. Especially when I had some time to work on my business and realized, for once, I finally knew exactly what to work on and why. Love this course so much!" - Victoria | @victorialynnfry
Imagine if . . .
✔ You sat down to work every day and jump straight into your task list knowing exactly what was most important to work on first
✔ You were able to focus for hours at a time, diligently checking off your to-do list without being distracted by random tasks or procrastination
✔ You felt accomplished and proud at the end of every day and could walk away from your computer without thinking about work all night long
✔ Your plan + focused workdays turned into the results you were hoping for and you're actually get more success from working LESS!
This course is for you if . . .
✘ You end almost every day feeling overwhelmed, stressed out, and like you can't ever keep up
✘ You make a plan and set deadlines and then feel guilty as you keep moving them further and further into your calendar
✘ You dread opening your inbox or procrastinating more than you'd like to admit
✘ You find yourself working nights and weekends and wonder when that freelance freedom is supposed to kick in
Meet your mentor!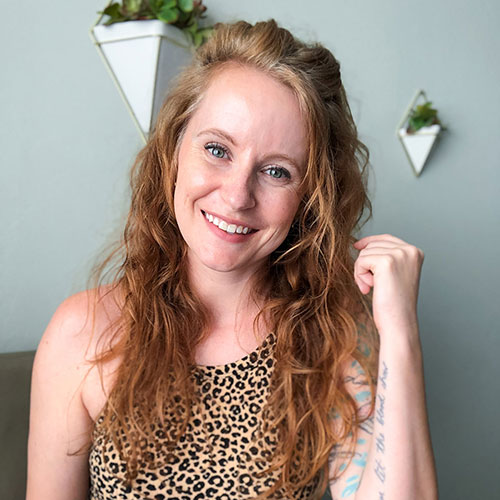 Hi! I'm Sarah and I've been in your shoes. My first 3 years in business I felt GUILTY every time I stopped working. It didn't matter how late it was or how how much I got done, I still felt like I should be doing more.
Part of it came from seeing what other people were doing 24/7 - it felt like everyone else was working more than me. And part of it came from not planning ahead or tracking what was getting done. I was just plowing through an endless to-do list, adding tasks in the moment, none of them pointing toward specific goals.
Now 8 years in, when my tasks are done for the day I'M DONE. I take nights and weekend off without an ounce of guilt. I know I've checked-off my tasks, have a plan for tomorrow, and am on track to accomplish my goals.
Whether you're working with clients, selling products, or blogging your heart out, if you're feeling overwhelmed by your workload and your days feel more chaotic than chill, The Productive Solopreneur can help!
Frequently Asked Questions
How long do I have access?
How does lifetime access sound? You will have unlimited access to this course + all updates for as long as you like - across any and all devices you own.
What if I am unhappy with the course?
We would never want you to be unhappy! If you are unsatisfied with your purchase, email us in the first 14 days and we will give you a full refund.
Is there support? What if I have questions??
YES! If you've got questions, I'm here with answers. Leave a comment in the box at the bottom of any lesson and I'll get back to you with help within 48 hours. (Not on weekends because I practice what I preach and time off is one of my love languages)
14-Day Money Back Guarantee
If for any reason you aren't satisfied or the course isn't what you were looking for, you may request a refund within 14 days of purchase. No questions asked.
⇩
Any questions?
Send us an email at [email protected] and we'll get back to you ASAP!
"I have been using most of these ideas and I have to say that I feel great. I'm doing all the same things I used to do but in less time. It makes me feel empowered and I feel I'm taking care of my mental health which is needed particularly at these COVID times." - Sara | whee-educacion.com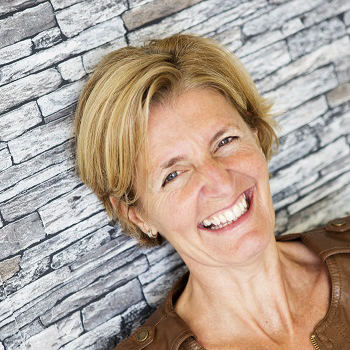 "The best thing I learned from The Productive Solopreneur was to keep stuff simple and going. Because I get overwhelmed I stop working or I get too enthusiastic and before I know it, I am restyling my whole business (for what??). The Productive Solopreneur leads you through what is needed and gives you simple tools and worksheets to stick to it." - Suzan | PerronZes.nl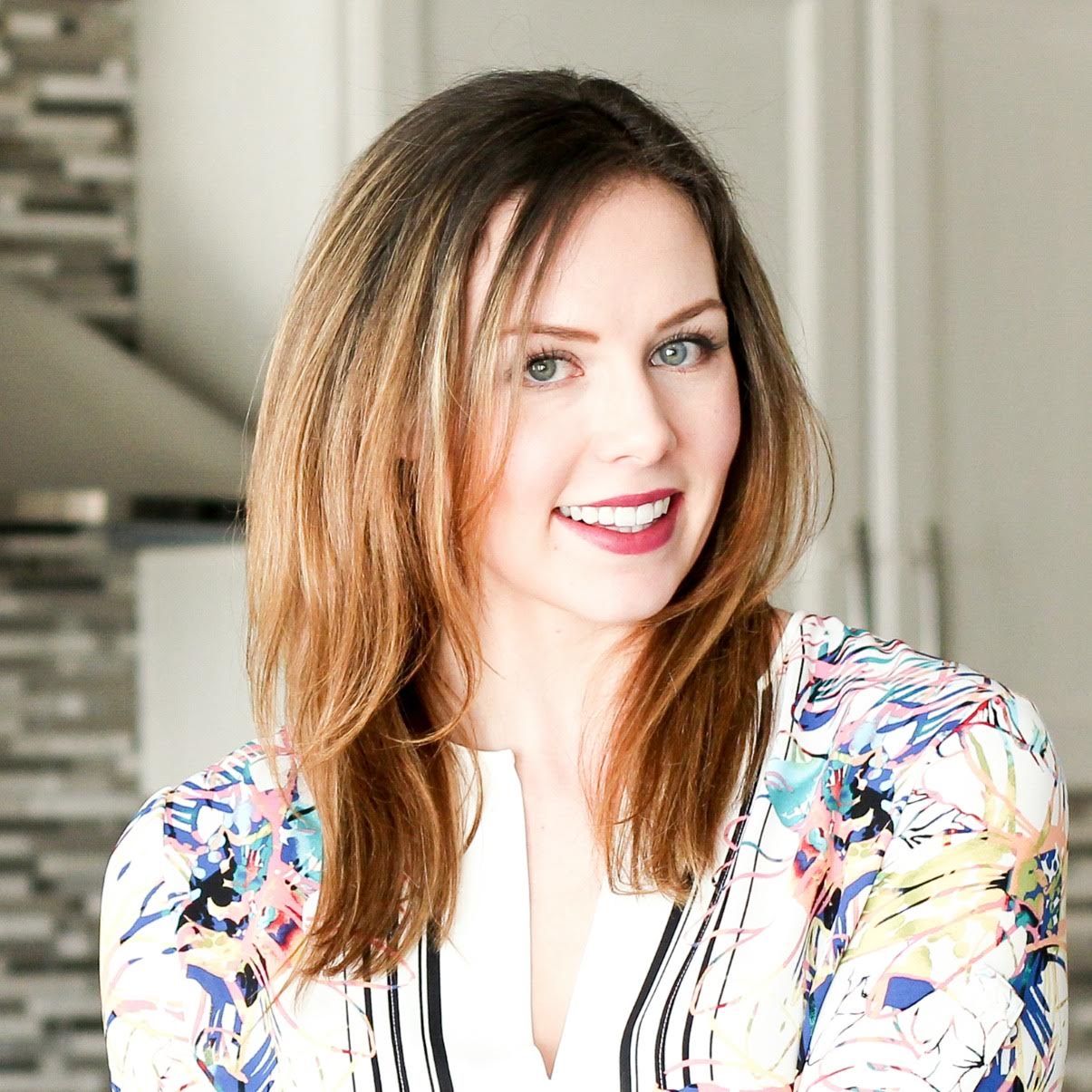 "The Productive Solopreneur helped me to gain my sanity back & not run my days 'from a list.' I LOVED the tip to choose ONE big thing a day to feel productive. Just one! I'm far more sane because of it!" - Andrea | ignitenutrition.ca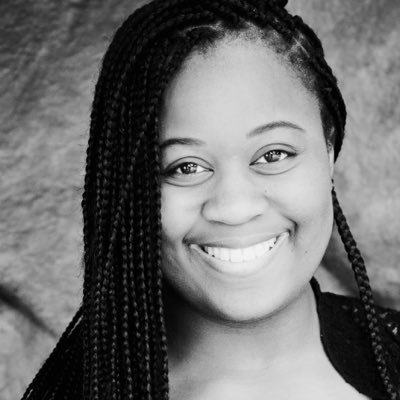 "Yay!! I finished the course by @xosarahmorgan: The Productive Solopreneur. :) Awesome tips! And better strategies than I had for automating!" - Stephanie | thestorytellingcreative.com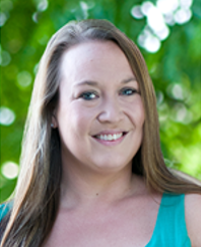 "The Productive Solopreneur helped me to create systems for almost every aspect of my business that doubled my productivity and I now have my daily email routines under control" - Jennifer | teachingtoinspirein5th.blogspot.com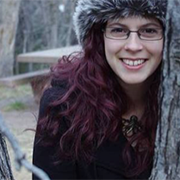 "There is so much information in each video that after I watched one I immediately spent the rest of the day implementing everything you talked about to get my business up to speed. I have been feeling overwhelmed, confused, and downright baffled at how other solopreneurs were able to do so much all the time. There is no way I could grow my business without these systems. I feel more in control, confident, and excited again!" - Amanda | WhistleHaven.com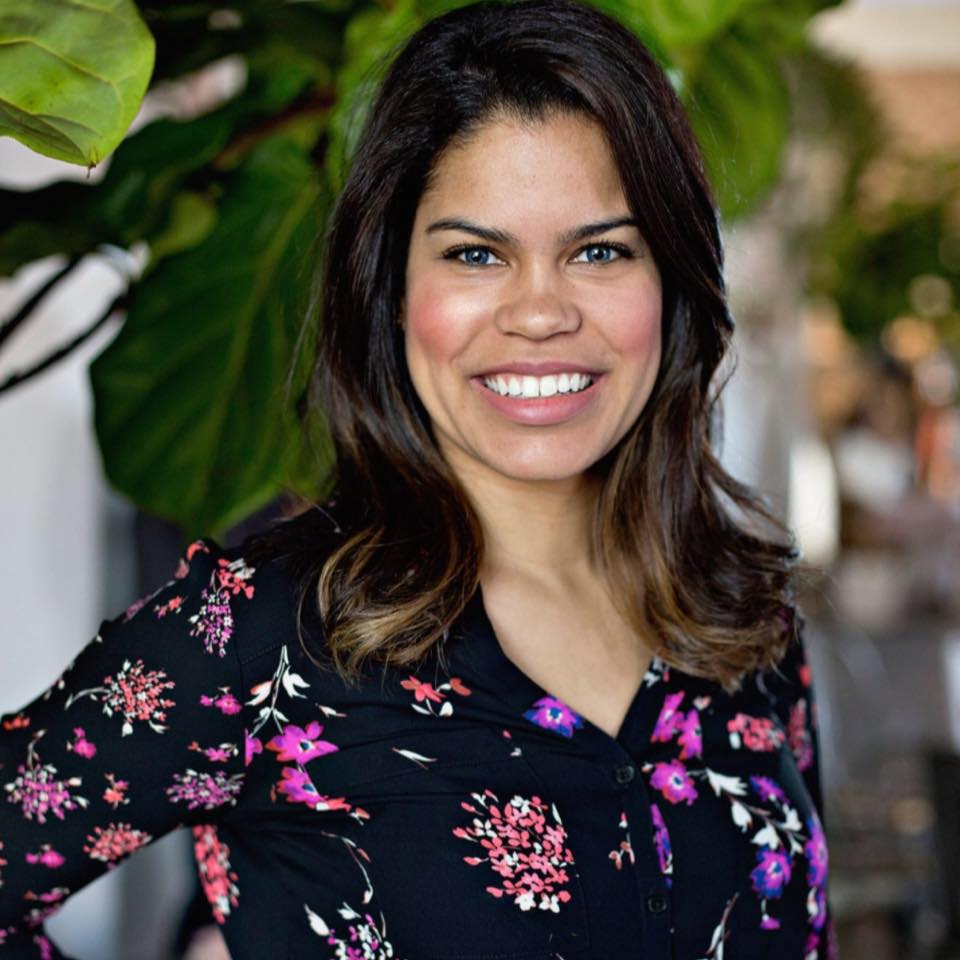 "The Productive Solopreneur helped show systems in both a snapshot, but also in depth. It's the perfect combination for an intimidating topic like systems and automation." - Jordan | systemssavedme.com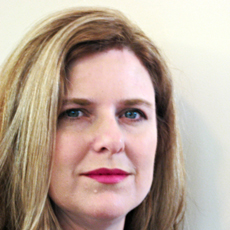 "The best thing I learned from The Productive Solopreneur was how Sarah re-uses content (especially video). It's difficult to find time to produce content for every channel. Seeing how she takes content created for one purpose and using it on different channels or in different ways was very helpful. I love how everything she teaches is really specific and actionable." - Tonia | www.solopreneurdiaries.com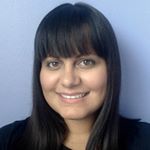 "It was an awesome workshop, Sarah - I spent all Sunday implementing the tips. Especially loved the part about how you organize ConvertKit tags + segments (my setup was a damn mess). I'm going to create my editorial systems this week as well. Thank you for putting it together!" - Justine | JustineGrey.com
Ready to take your workdays from chaos to chill? Click the link below and jump right in!